The History of Rotographic Publishing
Rotographic was formed in 1959 by Richard Marles in Torquay, Devon (England). Initially, equipped with printing machinery, they took on local print jobs. In the 60's the proprietor Richard Marles decided to exploit the huge sudden interest in coin collecting. At that time he also appeared on numismatic radio phone-ins and was involved in the coin dealing industry.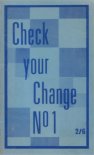 Before decimalisation, (when it was possible to find coins dating back to 1816 in your change!) Rotographic with Mr Marles at the helm produced a number of factual reference books, including the very popular range: 'Check your Change', which was produced throughout the mid to late 60's and sold over 2 million copies by the time decimalisation took over. In fact, during the 60's it was commonplace to see people in all kinds of shops doing exactly what the title suggested, flicking through their copy in order to Check their Change.
When decimalisation occurred in 1971 the older coins practically disappeared from circulation. All of a sudden "Check your Change" stopped being sold weekly by the 1000's, and orders for it slowed down drastically. Not deterred by this, a year later in 1972 Rotographic introduced the first edition of "Collectors' Coins England" (later re-named "Collectors' Coins Great Britain"), which contained value listings, variety information etc for all British coins, just like its predecessor "Check your Change", but this time with a much wider date range of 1760 - 1972. With the success of the new title, Rotographic were able to expand the range of titles and during the 80's and early 90's The Collectors Irish coins, Collectors Banknotes and several other new titles were added to the Rotographic repertoire.
In the late 90's as the Collectors Coins Great Britain book was getting too large to be sold for significantly less than its nearest competitor, the decision was taken to split the book into two separate books, and to put the earlier period into the 1760 - 1820 Collectors George III Coins book. So from that date to 2004 the Collectors Coins Great Britain book contains market values for coins 1820 - date.
Throughout the late 90's into the early 21st Century the volume of sales was steady and many of the titles were renewed every one or two years (annually for Collectors' Coins Great Britain). In 2004 Mr Marles decided it was probably about time he retired from full time publishing and printing (aged 78!) and has passed the responsibilities of the publishing side to me, Chris Perkins.
The Present and Future of Rotographic
Richard Marles is still involved with Rotographic 50+ years after he started it all off, and the input from this man, with so much experience in the publishing and printing industry is valued very highly. Now an octogenarian, he still just can't help himself and even wants to write new titles!
Between October 2004 to August 2010 I have published twenty-five new Rotographic books. Of those new books, many have been new editions of old favourites. Six have been completely new titles. There are currently nine books in print and three new books in the pipeline!
The aim is to have as many useful titles in print as possible. I'd like the range to consist of at least fifteen in print titles by the end of 2014. Books printed from 2007 onwards are all printed in full colour (where applicable).
Rotographic is embracing new technology and will be more interactive than ever before too. As of 2013 the range of books is being made available as eBooks, both in .mobi format for Kindle devices and in .epub format for most other eBook readers.
Chris Perkins, (www.predecimal.com)